In The Atlantic, Ta-Nehisi Coates writes about riots in Baltimore protesting the unexplained death of Freddie Gray.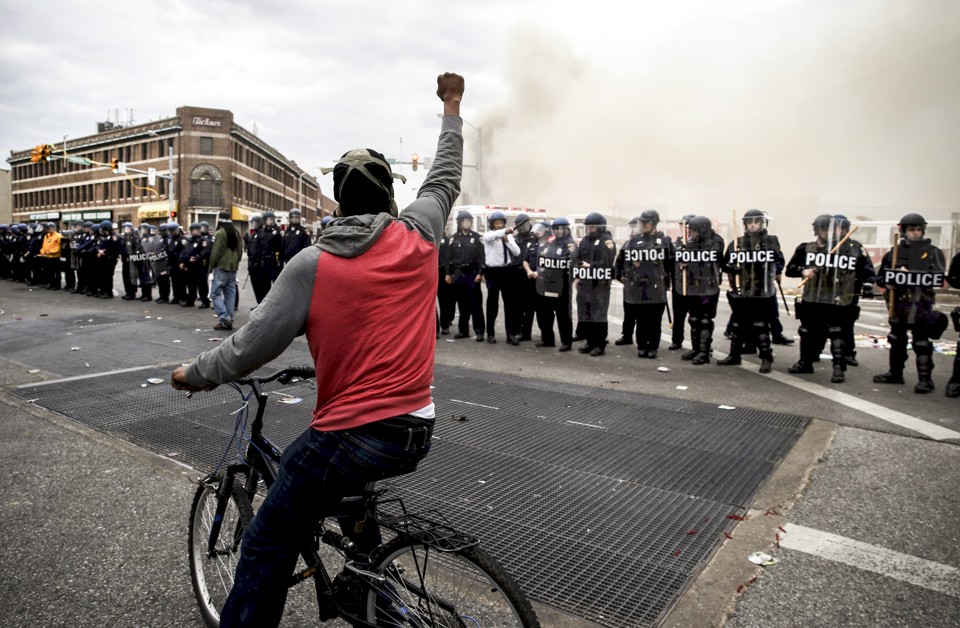 Coates argues that nonviolence is hypocritical when violence has already occurred:
"When nonviolence is preached as an attempt to evade the repercussions of political brutality, it betrays itself. When nonviolence begins halfway through the war with the aggressor calling time out, it exposes itself as a ruse. When nonviolence is preached by the representatives of the state, while the state doles out heaps of violence to its citizens, it reveals itself to be a con.
A lot of people will scorn Coates' words as a liberal reaction, an unpatriotic reaction, even perhaps a wicked reaction. So let's give equal time to a similarly wicked comment from a Republican friend of the my family. This came in an email a few days ago under the heading "Medicare- Part G:"
"Say you are an older senior citizen and can no longer take care of yourself and the government says there is no Nursing Home care available for you. So, what do you do? You opt for Medicare Part G.
The plan gives anyone 75 or older a gun (Part G) and one bullet.

You are allowed to shoot one worthless politician.

This means you will be sent to prison for the rest of your life where you will receive three meals a day, a roof over your head, central heating and air conditioning, cable TV, a library, and all the Health Care you need."
I understand this is another flippant chain email of the sort I pondered here. It isn't meant to be believed, and the man who sent it has no plans to commit violence. But still, it is an explicit call to murder. Is that funny?
I think it isn't. While I suspect that violence has an appropriate place in human affairs, it has no place in my affairs. I will never practice it or urge others to commit it: not even as a joke. But I think it has a place in historical and social affairs.
Coates is right in saying when violence has already happened, then non-violence is no longer a choice. But, of course, the street riots that happened overnight in Baltimore only hurt the property owners in the neighborhoods where the riots happened. They didn't and can't help accomplish justice or even shed light on what happened.
Writers in various publications are talking about how what's happening in Baltimore reminds them of Ferguson, Missouri and other places. It should also remind them of the 1989 movie Do The Right Thing, and this great scene between Ossie Davis and Spike Lee:
It is, of course, vital that Da Mayor gives no guidance as to what "the right thing" is.
What I think is that life, and especially human life, ought to be preserved and respected. And I think that property ought to be left alone. There is a circle in Dante's Hell (the 4th one) where abusers of property roll rocks at one another forever. So if you think material things don't matter, take it up with Dante, not me.
When violence is needed, I think habits and institutions (not people and not property) ought to be the targets. People have always fought and died for their nation, or their church, or their party, or their tribe. But none of those things will endure. Every human soul is forever.
Ta-Nehisi Coates is right in a small way, saying nonviolence isn't an option if violence has already occurred. But he doesn't say how the reaction should be focused. Da Mayor in Do the Right Thing is right insofar as the right thing is the right thing. But he doesn't give us a clue what it is.
So we have to turn to G. K. Chesterton for a more complete answer. The following comes, if I recall correctly, from the closing of Chesterton's book, What's Wrong With the World.  He's just read about a new local ordinance requiring the hair of little girls in London to be cut short so as to better control lice. Chesterton, looking at the situation with proper priorities, demands instead that the little girls be left alone and that the whole British economy and society be changed to make them free:
 With the red hair of one she-urchin in the gutter I will set fire to all modern civilization. Because a girl should have long hair, she should have clean hair; because she should have clean hair, she should not live in an unclean home; because she should not live in an unclean home, she should have a free and leisured mother; because she should have a free mother, she should not have an usurious landlord; because there should not be an usurious landlord, there should be a redistribution of property; and because there should be a redistribution of property, there shall be a revolution. The little urchin with the gold-red hair, whom I have just watched toddling past my house, she shall not be lopped and lamed and altered; her hair shall not be cut short like a convict's; no, all the kingdoms of the earth shall be hacked to suit her. She is the human and sacred image; all around her the social fabric shall sway and split and fall; the pillars of society shall be shaken, and the roofs of ages come rushing down; and not one hair of her head shall be harmed.